VIP Club LoginWelcome and congratulations!
We're so excited to have you join us in the Awakening Dynamics VIP Club!
We've got a ton of cool resources to help you transform your life, including:
regular live Q&A sessions,
subconscious block clearing calls,
frequent (usually weekly) live healing practice groups,
private session giveaways
many dozens of life-changing Masterclasses,
…and more! 🙂
We'd love to help you get familiar with your VIP Club resources!
For today, I just want to make sure you can login and access your VIP Club Home Page 🙂
You can use the following link to get to your VIP Club Home Page:
https://awakeningdynamics.net/wp-login.php
Please bookmark the home page, and make sure you write down your username and password and keep them somewhere safe!
The VIP Club home page should look like this after you login: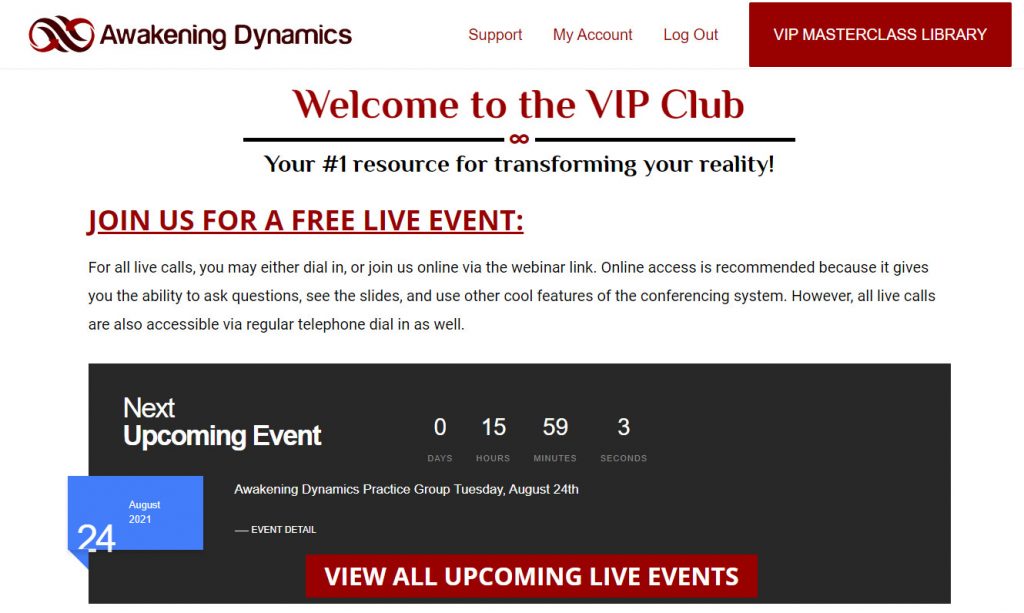 support@awakeningdynamics.comGo ahead and log in now to check it out!
From your VIP Club Home Page you can access all the VIP Club resources you have unlocked, including:
the dates, times, links, and access codes for all upcoming live events,
links to get the recordings of recent live events,
access to all the VIP Club Masterclasses and lessons you have unlocked
update your contact and billing information
upgrade, downgrade, or cancel your VIP Club account
We'll be covering each of these items in more detail in the next few days!
If you forget your username or password, there are links on the login page you can use to retrieve them.
If you need help with anything, feel free to reach out to us by emailing support@awakeningdynamics.com.
It is highly recommended that you go right now add this email address to your email contacts; otherwise our responses might get caught in your spam or bulk filters.
Looking forward to seeing you in the VIP Club!
– Brent Michael Phillips & the Awakening Dynamics Staff