VIP Club: how to upgrade, downgrade, or cancel your VIP Club membership
Brent here again…
It's really easy to upgrade, downgrade, or even cancel your VIP Club membership.
All you need to do is click "My Account" on the menu.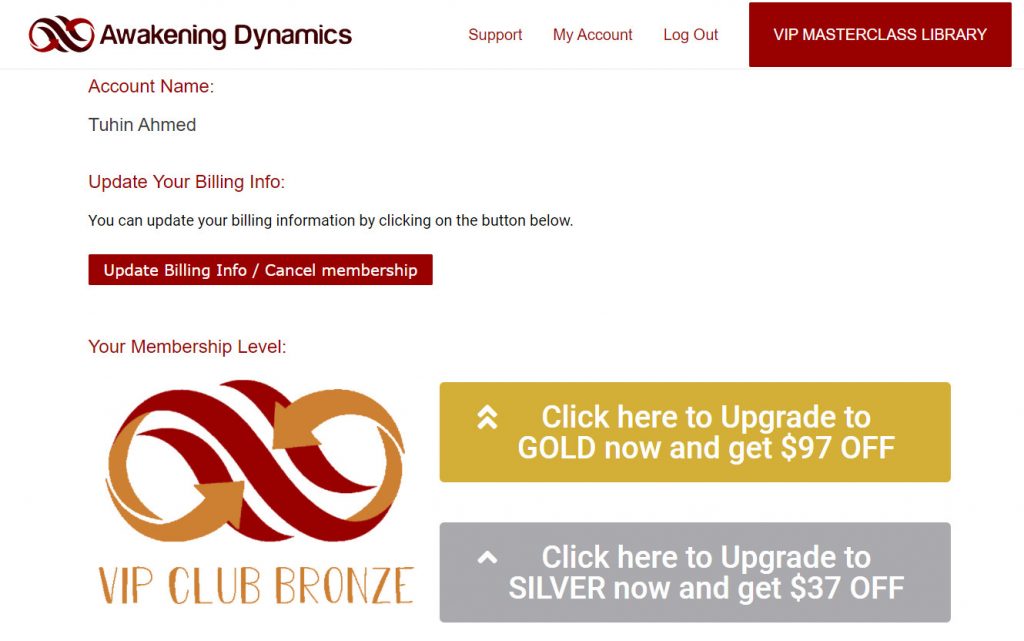 It will display your active memberships!
I know that if you start at BRONZE, you'll probably want to upgrade to SILVER soon so you can…
gain the benefits of our frequent LIVE energy healing practice groups, AND
unlocking the Masterclasses more quickly, AND
getting higher priority in block clearing calls, AND
qualify to win free private sessions with me.
Click here to learn more about the features and access you get at the different levels!
GOLD is the best value for your money, as you get to immediately unlock the ENTIRE library of Masterclasses…
Plus get instant access to the entire 12+ year archives of hundreds of block clearing calls and private sessions…
Plus qualify to get priority on winning free VIP Club private sessions with me!
SILVER is the next best option, as you will get access to all of our live energy healing practice groups, as well qualifying to win the monthly private session giveaway, as well as unlocking the Masterclasses a lot faster.
WARNING: if you cancel or downgrade your membership, you will permanently lose access to all your unlocked content. If you later choose to restart your membership, you will need to start from the beginning again to unlock your content.
However, if you upgrade your membership, you will always maintain access to all the content you've previously unlocked.
You already know that investing in yourself always yields the highest returns, and I'm confident you'll find the VIP Club is one of the best investments you ever made! 😊
– Brent Michael Phillips & the Awakening Dynamics Staff